Overview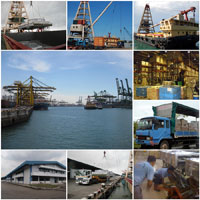 BSW provides integrated one-stop services. We are able to handle the life cycle of companies operating in Batam, from factory setup, to input of raw materials, and export of finish products, freight and project cargo.
We have experience handling intra-Indonesia shipments and cross-border shipments between China, Indonesia, Malaysia, and Singapore. Products handled include electrical parts, automotive wires, plastics materials for medical instrument and food/fruits etc.
These services are underpinned by an Integrated Shipping Management System and Warehouse Management System which allow us to keep track and monitor on time delivery of shipments and materials to customers.